We Didn't Domesticate Dogs. They Domesticated Us.
Over time, these tamed wolves would have shown their prowess at hunting, so humans kept them around the campfire until they evolved into dogs. For one thing, the wolf was domesticated at a time when modern humans were not very tolerant of carnivorous competitors. In fact, after modern humans arrived in Europe around 43,000 years […]
more…
Palaeontologists discover giant camel species that lived in the High Arctic (Wired UK)
The remains of an extinct species of giant camel have been discovered on Ellesmere Island in the Arctic region of Canada. The creature was identified thanks to analysis of 30 fossilised fragments of leg bone, each around 3.5 million years old, placing them firmly in the mid-Pliocene. Additional evidence from the surrounding area allowed the […]
more…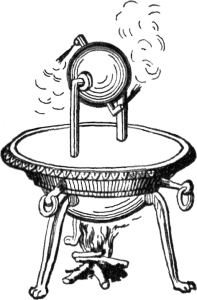 Could the ancient Romans have built a digital computer?
Perhaps the best evidence of their aptitude is the fact that many of those structures still stand today, almost 2000 years later. However, by the late 3rd century AD, all essential parts for constructing a steam engine were known to Roman engineers: Hero's steam power, the crank and connecting rod mechanism (in the Hierapolis sawmill), the […]
more…
Long-lost continent found under the Indian Ocean
The beaches of Mauritius contain fragments of a type of rock typical of ancient continental crust rock which could have been brought to the surface by volcanic eruptions. Evidence for the long-lost land comes from Mauritius, a volcanic island about 900 kilometres east of Madagascar. The oldest basalts on the island date to about 8.9 […]
more…
Declassified: America's Secret Flying Saucer
Inside the box was a trove of oddities: cutaway schematics of disc-shaped aircraft, graphs showing drag and thrust performance at more than Mach 3, black-and-white photos of Frisbee shapes in supersonic wind tunnels. The icon was a flying saucer on a red arrowthe insignia of a little-known and strange sideshow in aeronautical design. Rhodes was […]
more…
The First Duel Fought in Hot Air Balloons
More often than not, we find these stories while looking for something else – our eyes always seem happy to read weird and wonderful tales in adjacent columns. This strange story reports on the first duel to be fought in hot air ballooons, in Paris, in 1808. The Archive contains 100s of newspaper reports on […]
more…
Ancient Roman cosmetics: Skin cream from the 2nd century A.D.
When a Museum of London curator opened up the 2nd century A.D. canister, she found it full of white ointment, awesomely reminiscent of modern-day Nivea cream. This rare find was then chemically analyzed by University of Bristol's Richard Evershed, who has a quirky research niche: Figuring out the composition of ancient medical, food and cosmetic […]
more…
The Oldest Rock In The World Tells Us A Story
It's hard to imagine how this teeny little rock it's not even a whole rock, it's just a grain, a miniscule droplet of mineral barely the thickness of a human hair could rewrite the history of our planet. This one turned up in a dry, hilly region of Western Australia. It was sitting inside […]
more…
Loaded Revolutionary War-Era Cannon Found In Central Park
This artillery piece was given as a gift to NYC back during the Civil War, but when workers recently removed the concrete that had sealed the 230-year-old cannon, they found that it was loaded with a cannonball and gun powder. Parks workers came upon a live cannon ball, loaded in a cannon that is getting […]
more…
How Monopoly Games Helped Allied POWs Escape During World War II
Even trivial changes to a trivial board game can shift the course of history. muurkrant.nl via snopes One of the charms of Monopoly is its insistent iconography: the quaint little board, with its quaint little properties and its quaint little playing pieces, all overseen by the quaint little mascot that is Rich Uncle Moneybags. To play […]
more…
Fossil Older Than Oxygen on Earth Found in Australia
This gas flare in resource-rich Pilbara could not have burned 3.5 billion years ago because Earth lacked oxygen.Researchers have found fossils of bacteria that are nearly 3.5 billion years old, believed to be the oldest visible fossils ever uncovered.The discovery could spur further searches for life on Mars and other places where sedimentary rock is […]
more…
How fast could you travel across the U.S. in the 1800s?
The experience of traveling can often feel frustratingly slow. Indeed, in this age of instant digital communications and fast travel, we tend to forget that not so long ago traveling distances were subjectively very different.In the 1800s, for example, traveling a few hundred miles across the U.S. meant taking a steam-powered train, and the […]
more…